Fragments are puzzle pieces used to create character cards. There are 2 types of fragments, 4 star (purple) and 5 star (gold).
By attaining 30 4 star fragments, you will be able to create a 4 star card that you can then use in battle, or pull apart for various rewards. The same goes for 5 star fragments, except the required number of fragments to create the card is increased to 60 fragments.
There are several way to acquire fragments, you can earn them by:
Certain tasks have a chance to drop specific fragments
Gemini can get fragments for existing 5* star
You can buy them in "magic shops" and "black store" (Stores)

Additional information: Its recommend to buy 5 or 10 pieces, because the price for 2 pieces is higher (3 additional magic crystal for each fragment)

Placing in the top 10 in the daily world dragon event

Additional information: You gain a Jigsaw Bag, which contains 10 random 5* fragments.

Participating in the S-Class mage events
Turntable sweepstakes

Additional information: You can gain a Jigsaw Bag, which contains 10 random 5* fragments

Visiting the door of trials on certain days and completing "Magnolia Town" events
Opening Jigsaw Bags
Elite Task Fragments
Some elite tasks allow you to farm for fragments. Some of these levels can be easily found by going 'card>fragment>view drop' but not all levels with fragments are marked there.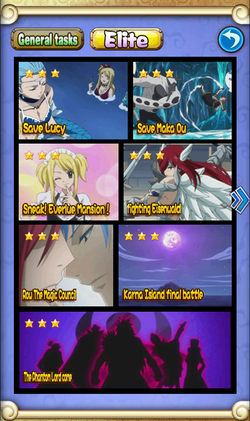 Save Lucy
Save Maka Ou
Sneak! Everlue Mansion!
Level 5 - Erza


Level 6 - Lucy

Level 11 - Chelia


Level 12 - Chelia

Level 10 - Minerva


Level 11 - Wendy
Level 12 - Erza
Fighting Eisenwald
Row The Magic Council
Level 12 - Gajeel
Level 3 - Meredy


Level 8 - Bluenote
Level 11 - Porlyusica
Level 12 - Jellal
Karna Island Final Battle
The Phantom Lord Come
Level 7 - Brain


Level 11 - Lyon
Level 12 - Grey

Level 10 - Sting


Level 11 - Meredy
Level 12 - Minerva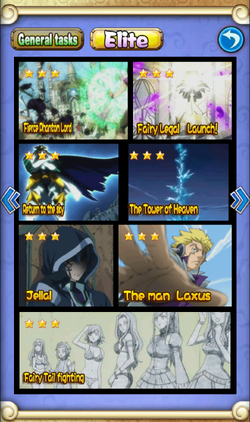 Fierce Phantom Lord
Fairy Legal Launch!
Level 4 - Meredy


Level 12 - Gajeel

Level 4 - Makarov


Level 12 - Meredy
Return To The Sky
The Tower of Heaven
Jellal
Level 5 - Zero


Level 8 - Yukino
Level 10 - Spirit King
Level 11 - Spirit King
Level 12 - Gajeel

Level 4 - Jura


Level 12 - Jellal


Level 4 - Ultear


Level 12 - Cana
The Man Laxus
Fairy Tail Fighting
Level 5 - Gajeel


Level 9 - Wendy
Level 12 - Natsu

Level 6 - Juvia


Level 7 - Yukino
Level 12 - Rogue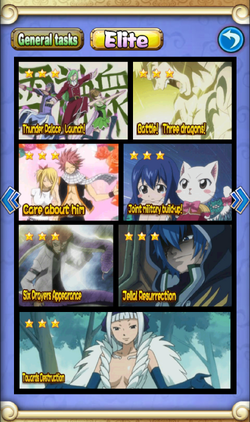 Thunder Palace Launch!
Battle! Three Dragons!
Level 11 - Rogue


Level 12 - Rogue

Level 9 - Mystogan


Level 12 - Laxus
Care About Him
Joint Military Buildup!
Level 8 - Wendy


Level 10 - Grey
Level 12 - Makarov

Level 10 - Wendy

Level 12 - Jura
Six Prayers Appearence
Jellal Resurrection
Level 10 - 5 Star Card


Level 11- Porlyusica
Level 12 - Brain

Level 3 - Lucy


Level 8 - Lyon
Level 12 - Mirajane
Towards Destruction
Level 5 - Lucy


Level 7 - Lucy
Level 12 - 5 Star Card